2 February 2012
Status: Just dragged unwilling self out of bed to go to work
Time: 7AM
So the Screen Actor's Guild Awards (SAG) was held a few days ago. And of course, I took the opportunity to screen through every star that attended that night. Some shone, and some bombed. So here's my pick of the best and worst of the night!
Worst
5. Angelina Jolie
Image courtesy of temptalia.com
It's not the dress. The dress is alright. And no, it's not that it looks wrong on her. She looks fine. It's just that I'm sorely disappointed with Angie. After looking drop dead gorgeous at the
Golden Globes
, this just looks blah. It's like she wasn't even bothered. You can do better than this, Angie.
4. Heather Morris
Image courtesy of: mamamia.com.au
You know, Heather is a beautiful girl. She really is. But I think her character, Brittany on Glee is rubbing off her. Because only a dumb blonde would dress like a slutty vampire to a black-tie event and expect it to work.
3. Kaley Cuoco
Image courtesy of temptalia.com
I'm not sure what was going through her mind when she chose this look, but I think it was probably along the lines of: "I wanna be a Barbie Princess tonight!" and then came this disaster. I can't decide if she's wearing meringue or a skirt...
2. Shailene Woodley
Image courtesy of: lilianpacce.com.br
Shailene, did you come to the SAGs thinking it was a Hawaiian-themed party of some sort? Because last I checked it was supposed to be a black-tie event... You know, one of those nights where people dressed up in glitz and glamour?
1. Busy Philips
Image courtesy of: neontommy.com
Alright, who let the runaway hippie on the red carpet? Oh. It's you, Busy.



Best
5. Kyra Sedgwick
Image courtesy of: kentonmagazine.com
Can you believe she's already 47? This MILF not only looks stunning in that Emilio Pucci dress, but she's also debuted her new tattoo (done in honor of her family, by the way) in the sexiest way possible.
Image courtesy of: celebrity-gossip.net
Subtle, yet deliciously sexy. Absolute love.
4. Octavia Spencer
Image courtesy of: perezhilton.com
Not only did Octavia Spencer bag an award that night, she's also been causing waves among the fashion community ever since. The Tadashi Shoji Dress hugs her in all the right places! I love how her updo enhances her beautiful face. Lovely.

3. Stacy Keibler
Image courtesy of: lisa-lisaspieces.blogspot.com
I love her Marchesa dress, and that hair. Stacy certainly knows how to make elegance look effortless. There's no wonder how she snagged George Clooney, is there?
2. Emma Stone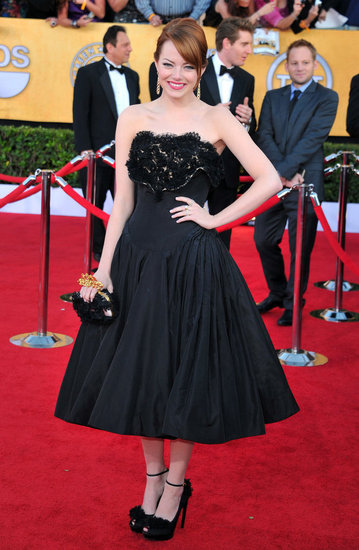 Image courtesy of: popsugar.com
Once again, 2nd place on my best dressed list, but stunning nonetheless. After being wow-ed by her at the
Golden Globes
, I expected nothing less from Emma. She took a chance by wearing a midi-length Alexander McQueen dress. And you know what? She brought cute and glamorous to a whole new level that night.


1. Zoe Saldana
Image courtesy of: vogue.com
In this gorgeous dress fresh off the runways of Givenchy Haute Couture, Zoe was the one star that shone the brightest that night. The dress compliments her willowy figure so well, that the very moment I saw her, my jaw dropped. I just knew I had to put her in the number 1 slot. I had a look at the dress on runway, and I think she carries it even better than the models did. Beautiful. So beautiful, she looks unreal. Amazing job, Zoe! Hats off to you!
Till next time. Au revoir, darlings. xoxo