18 January 2012
Status: Resisting urge to buy more clothes for CNY
Time: 1AM
Unless you live in a cave, you'd have known that the 69th Golden Globes was held last Sunday. Needless to say, the night was flanked with celebs pulling out their best outfits, hoping to outshine one another (oh come on, it's obvious, isn't it?). I literally sat through the whole thing just to check out who wore what. So here's my pick of the best and worst dressed of the night!
Worst
5. Natalie Portman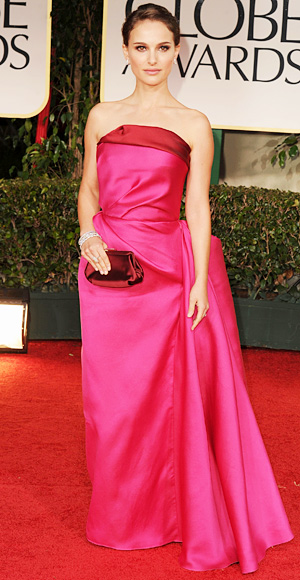 Image courtesy of: instyle.com
She's beautiful. Her hair, make up and accessories are just right. But that dress... What on Earth is it doing ON her? It completely drowns her skinny frame, and I really don't think that should be how you show off your post-baby figure. Also, is she hiding a stick underneath that thing jutting out of her?
4. Meryl Streep
Image courtesy of: allaboutyou.com
Thank goodness style isn't a factor in winning a Golden Globe. I doubt Meryl would've won that award when she came dressed in this nightmare. I love Meryl. I really do. I think she's a terrific actress. In fact, she's one of my favourite actresses. But I'm still trying to figure out if she was trying to come in as a cowgirl in a long skirt.... And why she thought it would work.
3. Emily Watson
Image courtesy of: framework.latimes.com
Okay, first of all, the dress makes your boobs look saggy. Why on Earth would you wear a dress that makes your boobs look saggy? Second of all, the necklace makes it sag even more. Why would you want to emphasize on the saggy-ness? Third of all, the neckline is too high, and the cutting of it doesn't suit her at all. My conclusion, aliens abducted her and forced her to wear this dress.
2. Amanda Peet
Image courtesy of: stylebistro.com
Grandma? I think I've found the person who stole your drapes! And she made a really REALLY bad dress out of it! This horrible frock does nothing for your figure, Amanda darling. If you wanted to steal my grandma's drapes, you could've at least made an amazing dress out of it.
1. Sarah Michelle Geller
Image courtesy of: thefatandskinnyonfashion.com
According to Sarah, her 2 year old daughter picked out this dress for her. Awwwww.... How sweet. Don't do that again. EVER.
5. Sofia Vergara
Image courtesy of: doslives.com
This Vera Wang number does wonders for her body. It hugs her in all the right places. I absolutely love the skirt. She looks like a mermaid. A very sexy mermaid. Tell me you don't wanna take her home with you.
4. Evan Rachel Wood
Image courtesy of: surlygurls.net
If Sofia Vergara were the Little Mermaid, Evan Rachel Wood would be the Sea Goddess. The woman works this Gucci dress which such grace and poise that I really can't see her as anything else. I absolutely love what she's done with her hair and accessories, too. Tres elegant!
3. Angeline Jolie
Image courtesy of: papermag.com
This isn't just beautiful. It's creative with class. Angelina simply oozes elegance in this Atelier Versace number. The fit and cut of it all suits her perfectly. I love that she's added accents of red into what would've been an otherwise boring ensemble.
2. Emma Stone
Image courtesy of: fashion-mommy.com
I was actually debating between Emma and Angelina for second place. But Emma scored more brownie points because I loved her dress more. Love how the Lanvin sways as she walks, while allowing us little peek-a-boos of her gorgeous legs. The eagle belt adds a very tasteful edge to the dress, too! Her hair, make up, and accessories completes her look, wonderfully.
1. Charlize Theron
Image courtesy of: daphnebenosa.com
Oh god. Be still my heart. Charlize Theron, you look amazing. She looks like a dream come true, I swear. Sporting a Dior Haute Couture gown and decked in vintage Cartier jewels, she looks just like a Greek goddess that gracefully descended from Mount Olympus. Everything about her is just perfection itself. I feel tears coming from my eyes now. This is too beautiful for words.
Till next time. Au revoir, darlings. xoxo