15 May 2012
Status: Unable to sleep
Time: 1AM
Aahh.. The Victoria's Secret Angels. Goddesses of perfection brought down from heaven to mankind - also the source of jealousy among many, many women. While I'm not exactly jealous of them (only sometimes. No really), I have to admit I admire them. Come on, what woman wouldn't like to look drop dead gorgeous? If you don't, then tell me again why do you shop for nice clothes again, girls?
Which is why I've started out this - The Victoria's Secret Angel of the Month!
And this month, I've chosen my all-time favourite Angel - Alessandra Ambrosio.
\
comicbookcatacombs.blogspot.com
Men, you may now drool. Women, you may not throw stones at your computer/laptop screen. Or her.
A smokin' hot Brazillian model, Alessandra knew that she wanted to be a model since she was 8 years old. It all started when she spotted a picture of top covergirl Karen Mulder in a magazine. She wanted to be like her. She then took up modelling classes at 12. When she touched 14, she was one of 20 finalists for an elite modelling competition in Brazil.
fashion-flicker.blogspot.com
Besides her perfectly sculpted body, there is something I love very much about Alessandra - her eyes. Piercing and absolutely mysterious, she makes me wonder if she were peering into my very soul, every time I look at her in pictures.
alessandraambrosiocelebritywallpapers.blogspot.com
Best known for her work with Victoria's Secret, Alessandra was chosen to be the first spokesperson of their "PINK" line. She is currently one of Victoria's Secret Angels and has modeled for brands such as Armani Exchange, Ralph Lauren, and Christian Dior.
Aside from modelling, Alessandra acts as an ambassador for the National Multiple Sclerosis Society.
She's also been selected by AskMen.com as one of the "Top 99 Most Desirable Women of 2008". She finished in second place.
wallpapers4iphone.info
And it's really no wonder.
But I've got bad news, men. In case you don't already know, she's married. With two kids. Sorry boys. The lucky man? Jamie Mazur, a Californian businessman.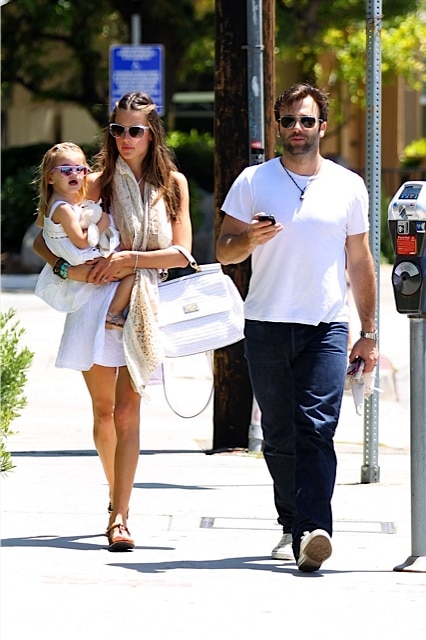 growingyourbaby.com
Sorry, can't get pictures of baby number two. As far as I (and possibly the rest of the world know), little Noah Phoenix Ambrosio Mazur was born on May 7, 2012. Her first child, is Anja Louise Ambrosio Mazur.
Out of the many, many lingerie she's modelled in for Victoria's Secret, my favourite has to be this.
fashionfame.com
A sparkling navy and black bra, accessorised with 23-carat Swarovski Elements encrusted wings. She flaunted this during the 2011 Victoria's Secret Fashion Show at the Lexington Avenue Armory in NYC.
This, I felt, brought out the exotic air that she exudes. Making her almost goddess-like. Ever since I saw her in this, I was utterly gobsmacked. I can't take the image off my mind.
magxone.com
Here's the best part. Aside from a botched plastic surgery to pin back her ears a while back, everything else about Alessandra, is au naturale. Perfect skin, perfect body, gorgeous eyes and amazing features... Yup. While the rest of us are frantically dieting and exercising to keep in shape, her diet consists of "eating whatever I want", and she lost 40 pounds of her pregnancy weight in just two months.
I'll bet you ladies are burning with jealousy right about now.
Oh, and she's only 29.
Although she's already made a few appearances on TV and Film (and owning her very own Star on the Hollywood Walk of Fame), Alessandra states that she wishes to keep climbing the acting ladder till she's able to work with her favourite directors, Quentin Tarantino and Tim Burton and her acting crush - Johnny Depp.
I'm pretty sure we'll be seeing a lot of Alessandra then.
Till next time. Au revoir, beautiful people. xoxo