10 June 2012
Status: Looking for the Rain God (it is hot as hell over here)
Time: 2PM
www.todayentertainment.today.msnbc.msn.com
About a few weeks ago was the premiere of Snow White and the Huntsman in London. Evidently, Charlize Theron and Kirsten Stewart decided to dress up as Queen Ravenna.
While I hear that the both of them are... "Buddies" now, I do believe that the dress up thing has opened grounds for them to receive a windfall of comparisons among the paparazzi and fashion critics. So I thought, why not?
In my honest opinion, I think it's pretty obvious. Charlize beat Kirsten flat. Let me put it simply, she nailed it.
The Beautiful
ego-living.com
Rocking a Christian Dior Haute Couture gown with Solange Azagury-Partridge jewellery, Ms. Theron captured the bad-assery of the evil Queen Ravenna with elegance and grace. Simply perfect. I love her ensemble. It's no wonder they picked her to play the part.
The What-Were-You-Thinking
mydochub.com
Okay, I've been struggling with myself on being nice to Kirsten. Probably because despite what a horrible actress everyone says she is, I saw her in Speak and I thought she actually had a small hint of unrecognised talent. But I can't. The dress is too ugly for words.
First off, it looks like patches of cloth stuck to her skin, made to look sexy but failing miserably. I looked at her hips and I'm still trying to decide if she was moulting or attempting to grow feathers.... With ruffles... And are those scales behind her? I'm sorry, Kirsten, but the person you were supposed to dress up as, is QUEEN RAVENNA (you know.. Hot as hell evil queen who tries to kill Snow White? Yeah). Not The Girl Who Is Turning Into a Scaly-Crow-Monster-Thing.
One small consolation, or rather the only thing I liked about her, was her hair.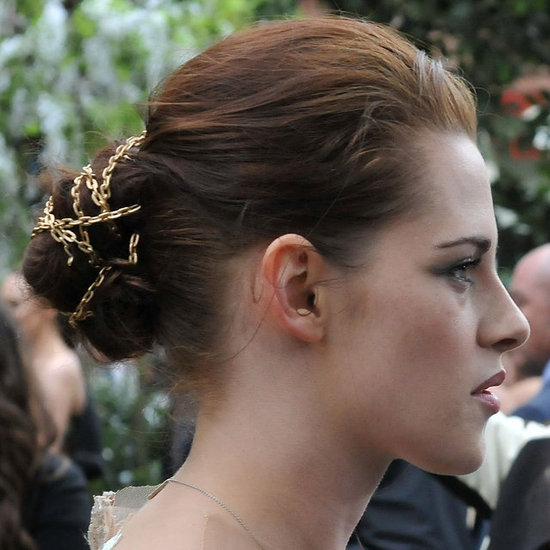 bellasugar.com.au
Love what she did with the gold chains. Very nice.
But other than that... The dress should be burned in hell.
So what say you? Which do you think worked the look best? Leave your answers in the comment section. I'd love to hear your opinions.
Till next time. Au revoir, lovelies. XOXO
Disclaimer: This post was inspired by information given to me by Samuel Chew, who blogs at www.seraphsam.com. Drop by his blog and check it out. It's pretty cool.