I've been extremely obsessed with cat hats lately. They're just so adorable! Kinda adds instant cuteness and a touch of whimsicality to your outfit. So much fun! I've seen quite a few around so I'm guessing they're getting to be quite a huge trend.
After months (I mean MONTHS) of searching and thinking "Hmm.. Should I or should I not?" I finally got it. It wasn't so much of whether I thought it would look good or not, it was more on the price, and the exact colour and shape. I'm finicky that way.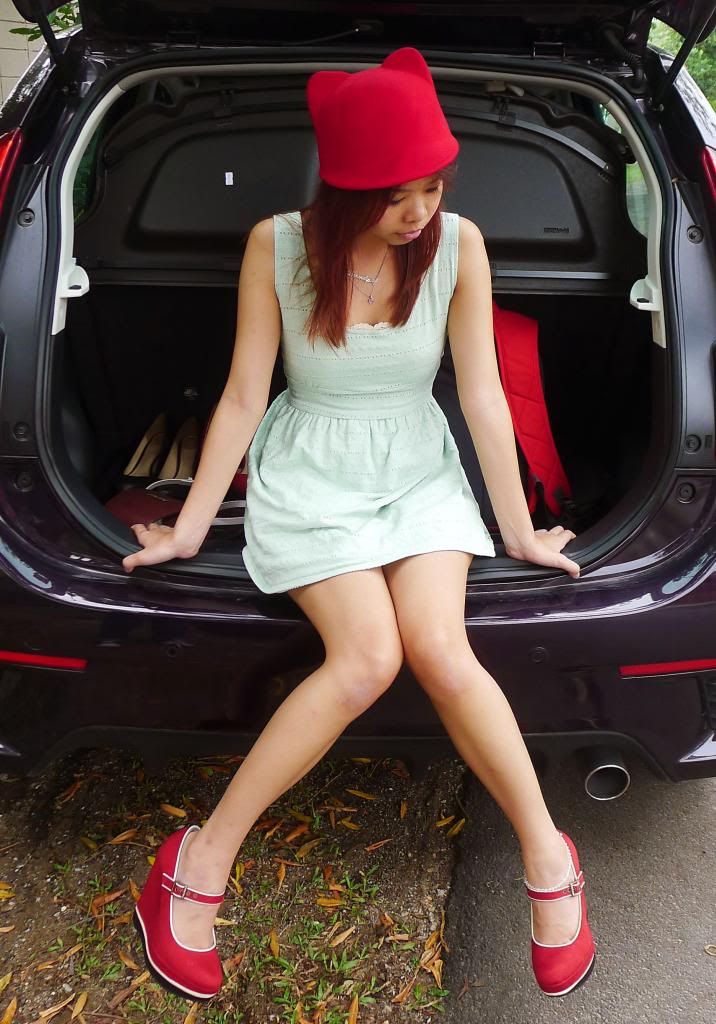 I paired the cat hat with my favourite mint green eyelet skater dress and a pair of Mary Janes. While I know that pastel mint green is probably very off-season, I still pretty much love the colour. I felt it brings out a bit of sweetness to the ensemble, while the red Mary Jane platforms and the hat gave it a nice pop of colour.
More interesting, no?
I find skater dresses one of the most versatile dress, ever. You can change it up at any time with virtually anything to give a completely different feel. Loads of fun to play with, honestly. I especially love the subtle eyelet details on this particular skater dress.
I have a thing for small details.
I love these wedges!
Yes, that is my friend's purple Myvi. They thought it might be fun to see if I could fit into the thing. I was... Not amused.
So, what say you?