20 January 2012
Status: Failing miserably at concentrating in work due to feeling overly excited towards the upcoming holidays.
Time: 12PM
If you've kept up with runway news, you'll probably know that super bold prints are among the trends to look out for this Spring.
Image courtesy of: deeannarogers.wordpress.com
The good thing about super bold prints, is that people can spot you from about a mile away. You'd definitely stand out in a crowd. The bad thing about them, is that there is a huge risk that you could end up looking like a clown.
Now, it's not like I can't stand them... It's just that super bold prints tend to be too loud. I mean, there's a fine line between standing out tastefully, and standing out trashily. Too much of them hurt my eyes. It's like entering a room with nothing but pink paint on the walls and pink furniture. I like fashion done with variety, but tastefully so.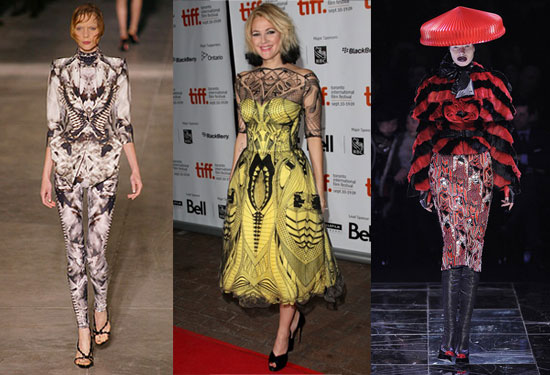 Image courtesy of: fabsugar.com
I also have this perception that clothes that are too bold take the attention off your face. As a rule, whatever you wear, from your clothes to your accessories, to your hair and your make up, should always compliment you. Not steal your spotlight. I mean, you'd want people to look at your face and say that you're beautiful, instead of saying: "nice clothes!" If that ever happens, take off whatever you're wearing, and burn them.
And this is just the kind of danger that super bold prints give.
My advice? If you like this sorta thing, tone it down with a more basic colour.
The verdict:
If I were to be completely honest, I'm not liking the whole super bold print thing. I actually wish it was one of those trends that they pack away in a box that should never be opened. There really is such a thing as being "too bold", and I believe they call it stupid. I will admit, however, that bold prints are a nice option if you're bored of the usual plaid, striped and polka dot patterns.
Nothing against bold print fans.... Just... Tone it down a little, will ya?