2 January 2012
Status: Blasting Lana Del Ray Music
Time: 7AM
Hello lovelies! Before I start off, I'd like to wish you all a Happy 2012! I hope New Year's Eve was as memorable for you, as it was for me.
With a new year comes new possibilities, new adventures, and exciting new fashion trends. It also means the end of the holidays.... And back to work. Depressing, much? Maybe.
Here's a tip to shoo away your blues: DRESS UP.
I don't know about you, but I always find going back to work more fun when I do it in style. There's just something about dressing up that really perks me up. Pretty much like telling yourself "I'm beautiful" into the mirror everyday before going to bed.
I don't know about you, but I get really bored with seeing the same old office wear everyday. I mean, shirts, slacks and pencil skirts with the occasional blazer for meetings is fine. But too much of it just looks redundant.
Honey, I know this looks sharp, but wearing this in different colours for almost 365 days in a year is just.... Boring. We are humans, not robots. We are allowed to have variety in our lives.
Image courtesy of: wewomentoday.com
So let me suggest a few ways to jazz up your work-wear:
1. A new bottom.
Nothing major. Just some new slacks or skirts that's a little bit different from the standard black, grey, or blue.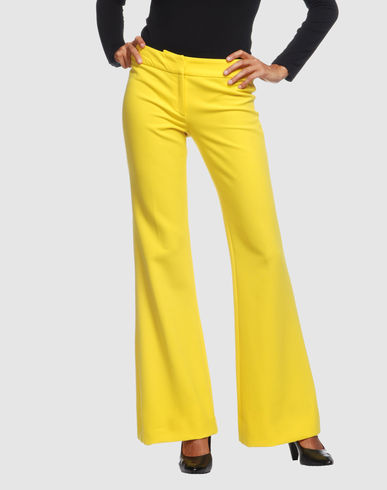 Images courtesy of: su-sews-so-so.blogspot.com, stylehive.com
Now, I know what you're thinking - "Bold colours to work? YOU MAD, WOMAN??" But hear me out here. While understated colours like black, blue, grey and the like are safe and functional, but a bit of colour never hurt anyone. If you're really afraid of sticking out like a sore thumb, don't colour block your ensemble. Tone down the loud colours with the more understated ones.
When it comes to skirts though, you have a bit more choice. Get a peplum skirt, or something a bit different. Like these:
Images courtesy of: mystreetchic.com, shoptometrist.blogspot.com
2. Accessorise.
Remember girls, accessories are your friends. While it's probably not a good idea to wear flashy jewellery if you're working in a corporate environment, there are some subtle changes you can make to your office-wear with your accessories. Also, if you don't feel adventurous enough for my first suggestion, this one's for you.
Scarves
Image courtesy of: janbuy.en.made-in-china.com
Scarves are a great way to jazz up your work-wear, and still look appropriate. You can even wear them in many different ways. Here's a video I found on YouTube by
wendyslookbook
.
25 ways of wearing a scarf
Belts/Clinchers
Images courtesy of: amazon.com, fashionstyleadvice.com
Awesome for bending the rules of corporate office dressing, and subtly perking up your outfit. For clinchers, opt for cute ones or something a little less conventional. For belts, try one in a different colour. Lime green, perhaps?
Brooches
Image courtesy of: blogs.smarter.com
These are the most subtle, yet elegant way of playing up your office wear. Pin on a nice brooch or two on your blazer to make it look less boring. Just don't go overboard.
3. Shoes
Clothes may make a woman, but her shoes complete her. At least that's what I think. Invest on a gorgeous pair of heels to wear to work. Especially on the days when you really REALLY don't feel motivated enough to drag yourself out of the house. Consider them your "pick me up heels". Slip them on, and voila! Instant motivation.
Image courtesy of: blog.girlybubble.com
And isn't it a nice change to see yourself in a different pair of shoes to work?
4. Hair
While this isn't exactly "Jazzing up your work-wear", it's a great way to make you feel better about yourself. A new haircut, hairstyle, or haircolour never fails to make a person happier, somehow (provided that it's a good one, of course). It's also a wonderful way to start off the new year.
Image courtesy of: curlhairstyles2011.blogspot.com
However, if you don't feel like cutting your hair short, or colouring it differently, here are 6 chic hairstyles that you can use to jazz up your hair for work. And they're very easy to do!
Check out her channel! Loads of useful hair tutorials. :)
In my opinion, in order for one to feel good, one must look good. I mean, looking good when walking out of the house gives my confidence a huge boost. And I'm pretty sure most girls feel the same.
This is even more important when going to work. Not only does it bring you a better image to your boss (and a possible promotion), but it's redundant enough to be working from 9 to 5, 5 days a week, 12 months a year. So why not make yourself feel good, by dressing up a little more?
Besides, dressing up is a women's privilege. Don't you agree?
Till then. Au revoir, beautiful ones. xoxo